It has been a MINUTE my friends! The last month I've been trying tons of new recipes and once spring officially hits, I hope to do a blog post on all the fun new winter recipes I've tried (and let me tell you, there have been the good and the bad!).
But before diving into what I've tried new recently, I thought I'd share some of mine and Jarod's go-to dishes for the past few months. It's no secret that winter is dark and cold. All you want to do is curl up with something tasty and warm. In the summer we love eating outside and grilling almost every night. No such luck in the winter!
With lunches and dinners, I've been trying my best to hit the sweet spot of warm and hearty while still incorporating some healthier ingredients. My goal is usually to feel satisfied without the same bloat that some classic hearty winter meals often leave you with. These are recipes that don't involve too many steps and always taste amazing.
Here are some of our go-to's!
Spaghetti Squash with Spicy Tomato Sauce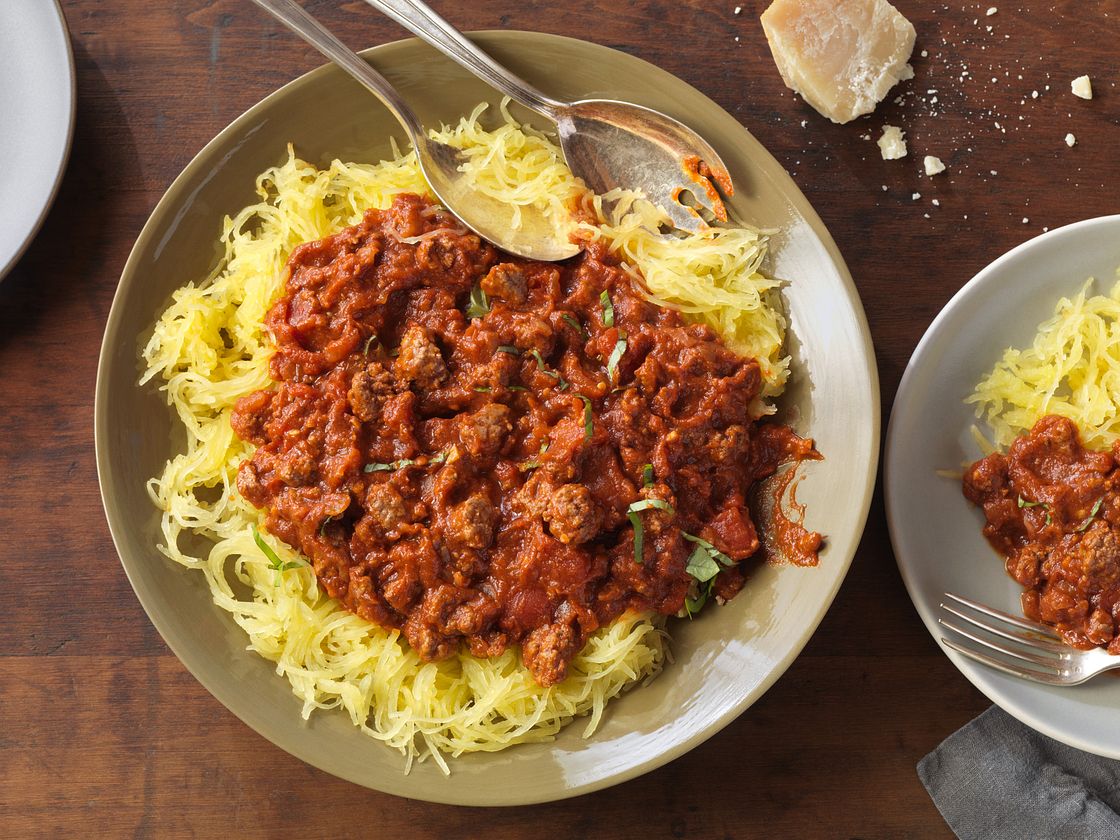 This looks almost exactly how Jarod and I serve up our spaghetti squash! Here's the deets: cut your spaghetti squash in half, scoop out those seeds, coat the inside in olive oil, salt, and pepper, and then lay each half (flat side down) on a foil-lined baking sheet. Stick it in a 400 degree oven for 40-45 minutes.
Then the sauce. I am going to brag here: our sauce is boss. No shame in admitting it starts with a store-bought sauce: Aldi's Simply Nature Tomato Basil pasta sauce. It's my favorite store-bought sauce out there. But to get the party started, first cut up about a cup of mushrooms and dice about half an onion. Throw those in a wide stove-top pan over medium-high heat until everything's cooking down nicely, adding salt and pepper to taste.
Then, the magic happens. At this point, we add a pound of ground hot sausage. I never ate sausage as a regular protein when I was growing up, but the flavor it adds is truly insane! Get that sausage in the pan with the mushroom and onion and cook it all together until the sausage is not only cooked, but beautifully crispy. That's when you add your tomato sauce of choice.
At that point, you can just mix it all together and let it simmer until the sauce is fully cooked. I usually will add some basil, oregano, garlic powder, onion powder, or other seasonings of the like to my own taste.
Once that squash is done cooking, shred it into spaghetti-like strands, serve it up on a plate, and top it with the amazing sauce. As Emeril would say, BAM! That's it baby! That's the stuff.
Sincerely, we eat this once a week. No judgement, no shame. It's that good.
Sheet Pan Sausage + Veggies
This one isn't original by any means. Heck, all of these are inspired in one way or another by a food blogger or Pinterest search! But I can't get over how tasty veggies are when you hit them with a little olive oil, some seasonings, and throw them in the oven for a while. One of the easiest way to prepare vegetables.
Our go-to combinations usually involve cut-up beef smoked sausage, brussels sprouts, sweet potatoes, onions, or broccoli. You could swap in pretty much any hearty vegetable that could hold it's own weight in a 400 degree oven for 20-30 minutes… and any protein! Protein could be chicken or chickpeas. Veggies could be carrots, snap peas, potatoes, asparagus, or peppers. Lots of options which makes this one flexible for any day.
Cajun Sausage with Peppers + Onions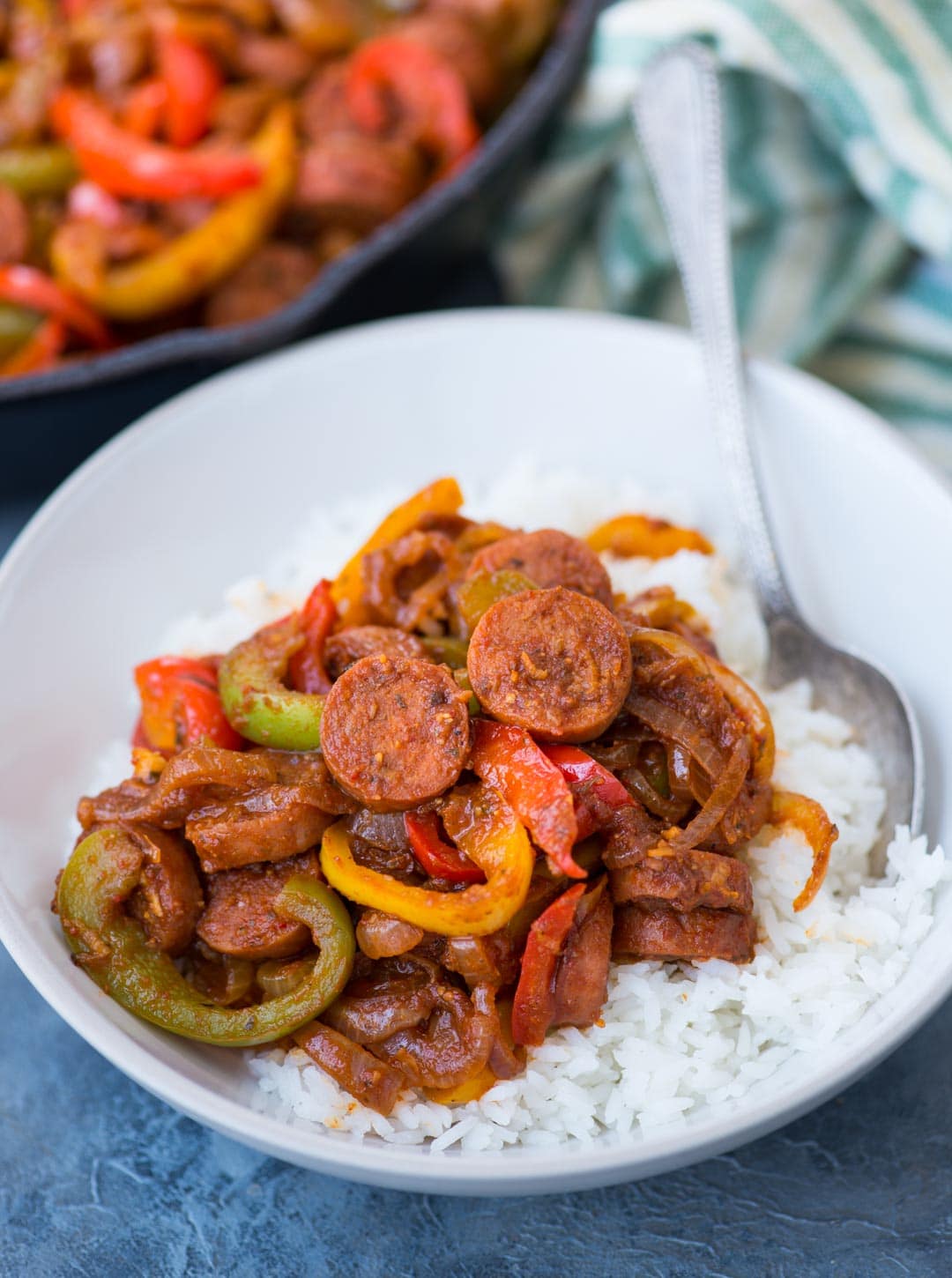 The flavors in this one can warm up any cold, cloudy winter day. And it's not too bad for you! Cut up the peppers and onions thin and slice some beef sausage (leaving amounts generic for your own experimenting). Sauté with oil until the peppers are soft, and then add in your cajun seasoning of choice. I have my own homemade version based on Half Baked Harvest's recipe (featured at the bottom of her recipe here), which I tweaked a little to include less cayenne which suits us better. Use whatever favorite you'd like.
Serve it as-is for a healthier meal or over rice for something more filling. Love this recipe… something about cajun seasoning is SO tasty.
Chicken + Veggie Stir-Fry
We're all about quick, easy, and simple over here. I love throwing together this dish because of the flavors from all the different sauces we have.
What you'll need is whatever form of chicken you like (in the picture above it's cubed chicken breast) and a bag of frozen asian stir-fry veggies. We get ours from Aldi and a whole bag serves Jarod and I both.
If you're feeling really fancy, start with half a diced onion and some oil to start in a pan on the stove on medium heat, adding salt and pepper as desired. Once the onion cooks down a bit, then add the chicken to cook up and turn the heat up a smidge, again seasoning along the way. While the chicken is cooking, throw the stir-fry veggies in the microwave to cook as normal.
Then once the veggies are done, add them to the skillet. If using raw chicken, it should be close to fully cooked by now. Next, the magic happens.
As the veggies are cooking in the pan with the chicken, I work on putting together my stir-fry sauce. To be honest, it's a very loose "recipe" and changes each time. But here's a few of the ingredients I'll usually add a bit of: hoisin, soy sauce, sesame oil (just a little!), and ground ginger. Recently I've been adding sweet chili sauce as well. Sometimes I'll include some gochujang because I LOVE gochujang, but it really depends on the day. Will also often add a little onion powder and garlic powder. You could add chili pepper flakes too. Didn't I tell you this was loose? LOL! These flavors come together really nicely to help create a classic "stir-fry" flavor.
Oh, and I almost forgot… one secret ingredient I added to my sauce when I cooked the stir-fry that's in the picture? Brown sugar. Just a little bit, measuring with your heart (however much looks good to you). Although hoisin is already very sweet, the brown sugar sealed the deal for me on this day, adding the perfect balance with the soy sauce and sesame oil.
I throw all those sauce ingredients into a bowl, add some water to make it a bit looser, and then add a hearty sprinkling of cornstarch. Use a fork to mix it all up and create your slurry. Pour it over your chicken and veggies in the pan and watch what unfolds. The cornstarch works to thicken the sauce when it heats up, coating the veggies and chicken with the deliciousness as you stir it all together.
Much like the Cajun Sausage with Onions and Peppers, you could eat this on its own or with rice.
Crockpot Carnitas with Peppers + Onions
The image for this recipe can't be the final product; it has to be the actual product, because my recipe entirely hinges on THIS. This amazing thing. Usually no more than $6, this pre-seasoned carnitas pork roast is simply delicious, and makes it easy to have a slam-dunk dinner any night of the week.
Head on over to Aldi, buy one of these, and then come home and put it in your crockpot. You could put it in there by itself OR you could first slice up some onion and peppers and lay it on top of those for it all to cook together. Cook it in your crockpot on low for 8 hours or on high for at least 4. The flavors come together beautifully.
This meat falls apart so easily and is perfectly seasoned. We'll usually eat these carnitas in fajita-style shells with beans or chips on the side. Sometimes if we have avocado we'll whip up some guacamole too! We never eat all the meat/veggies in one sitting though, so it's really nice to have for the days after to make quesadillas or burrito bowls.
Buffalo Chicken Taquitos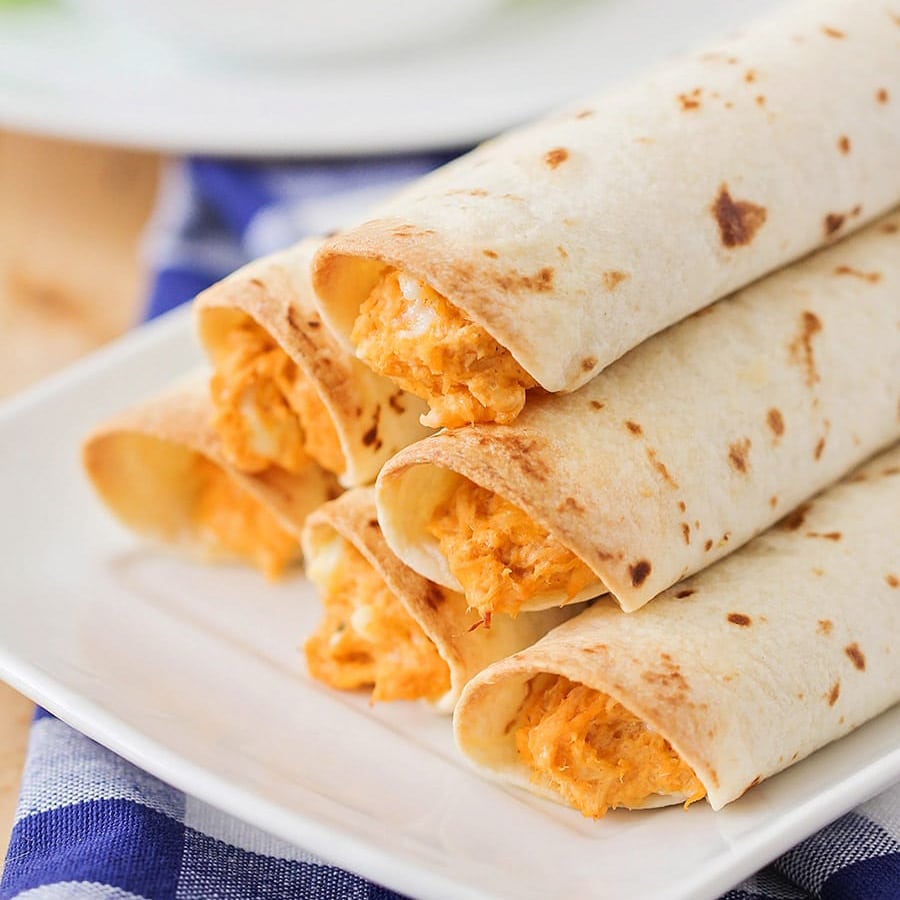 Remember the title of this blog post says "healthy-ish"! Haha but seriously, the way we make these, they aren't too bad. And just like with cajun seasoning, buffalo sauce works wonders for me during the winter… tasty and savory and just slightly spicy to warm you up.
You'll need fajita-size tortillas, shredded chicken, Frank's Red Hot sauce, and plain greek yogurt. Mix the shredded chicken, greek yogurt, and Frank's Red Hot sauce to your taste. You want these to have enough flavor, but also not too spicy for you! You could also add garlic powder, onion powder, salt or pepper as you'd like. Mix it all together until it resembles a cohesive filling.
To assemble these taquitos, first microwave the tortillas for 15-30 seconds so they're soft enough to wrap up. Take out a sheet pan and spray it with your cooking oil of choice. Next, take your tortilla and rub one side in the pan so it gets oil on the back. Use a spoon to add your filling in a line in the middle of the open tortilla. The filling should take up no more than 1/3 of the width of the tortilla. After adding your filling, work to tightly roll the tortilla until it's completely wrapped, like pictured above. Repeat with all tortillas, space out the taquitos on the pan, and bake at 400 for 10-15 minutes.

Voila! You have crispy delicious taquitos! Of course if you wanted to make these not as healthy, you could use softened cream cheese instead of greek yogurt, and add cheddar cheese to make things richer. You could also add ranch on the inside, as I have done once or twice before as well… mmm 🙂
—
Let me know if you're interested in trying any of these, or if one of these is also a winter time go-to for you!
Love always,
KW